A big thanks to
Joyce Valenza
for sharing a site called
Skype an Author.
The concept is simple: a number of authors have signed up on this site and are willing to donate (free!) 15-20 minutes of an author visit via Skype. Being that we are in Thailand, this is a phenomenal way for our students to have contact with writers and get a taste of mingling with authors. I immediately sat down and scrolled through the list of authors to match books we have in our collection with available authors. One of our first mini author visits will be with
Jessica Harper
. I just read
A Place Called Kindergarten
this week, and the kinders loved it.
Coupled with another of her books called
Lizzy's Do's and Don'ts
, which they also loved, we will now write a few questions to ask Ms. Harper when she meets with us on the computer.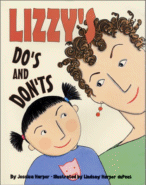 I can't wait!